Sunday March 28th, 2010
10:55pm EST.
The end of Wrestlemania 26.
Nothing at that moment was more important to me than the Grandest Stage of them All, The Showcase of the Immortals.
I was 13 years old. I looked forward to this day all year, counting down in my school agenda, running to my bedroom the moment the Royal Rumble concluded to craft a journal filled with match predictions and fantasy booking ideas.
Even knowing that I had a pre-algebra test the next morning at school couldn't stop me from staying up past bedtime.
Yet, I sat on my living room couch, hands over my mouth.
Crying.
And not because there was a test tomorrow.
Each tear rolled down my cheek to softly dampen the sides of my fingers. The only image I could collectively piece together from my wet windshield of an eyesight was Shawn Michaels waving goodbye, absorbing the adulation he rightfully deserved from the 72,000 fans packed into the University of Phoenix's stadium.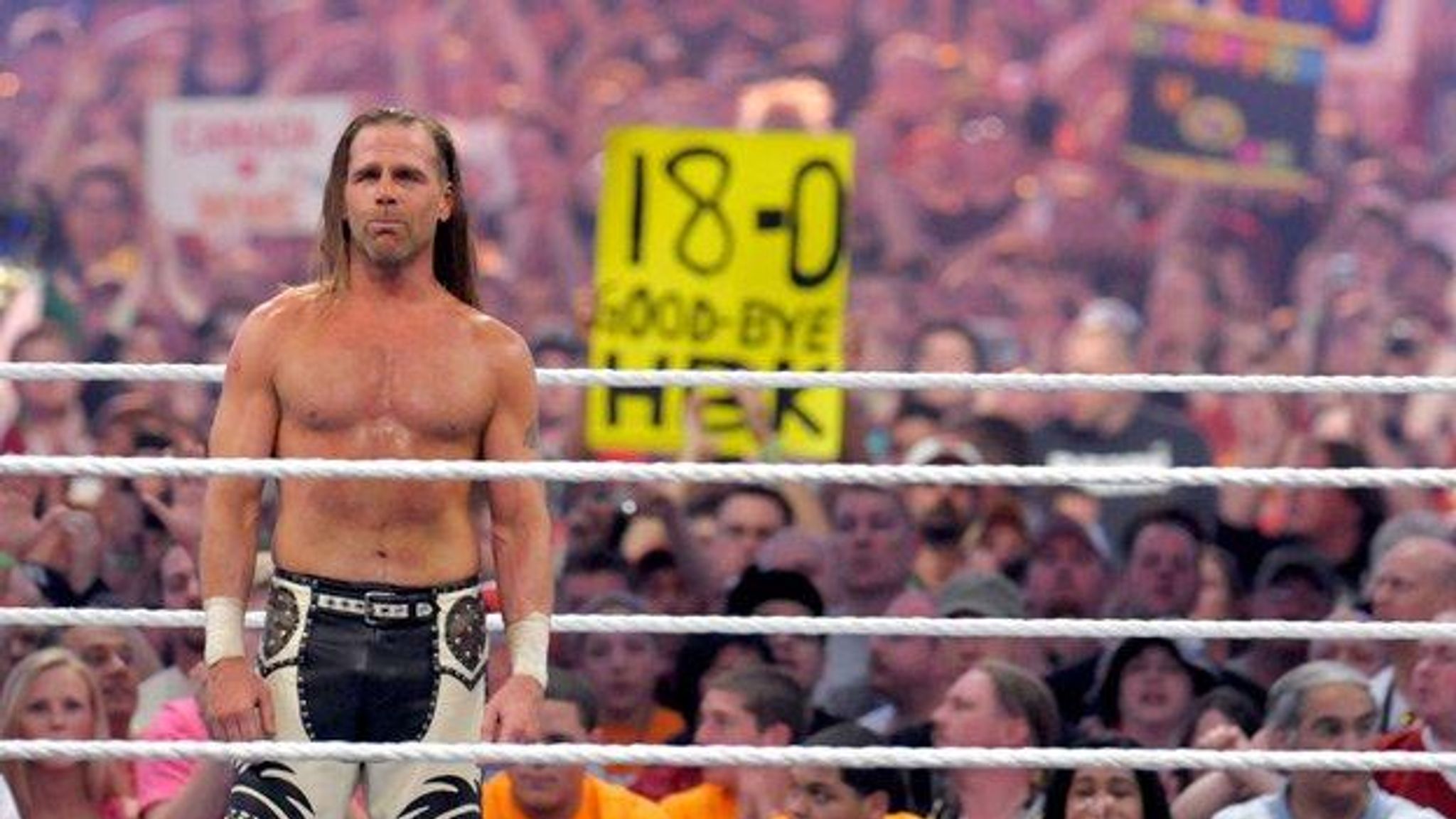 HBK's emotional walk up the ramp spoke to the end of an era, a pillar of my childhood that I wasn't ready to say goodbye to.
And the match that preceded this moment encapsulated why I love professional wrestling so much.
The Streak vs Career match is my favorite Wrestlemania match of all time, and it exemplifies the pinnacle of WWE's ability to craft a cohesive story over a long period of time.
Long-term storytelling, some might say.
Many point to Shawn Michaels vs the Undertaker at Wrestlemania 25 as a phenomenal masterpiece, often being touted as one of the greatest matches ever fought in a ring. And I absolutely agree! 30 minutes of exceptional technique, nearfalls, and sacrifice unfolded as two veterans proved that their age meant no barriers, that they clawed to the last breath in order to secure a victory for themselves.
However, the stakes leading up to this match pales by comparison to the following year's sequel. Streak vs Career took the foundation that WM 25 had established and evolved it tenfold. It is crucial to emphasize the buildup to Wrestlemania 26, because it plays a huge role in why I enjoy this match immensely more than its predecessor.
It became more than a story about darkness versus light.
It became a story about two men who had seen everything in the industry, two men who feared the ticking clock of their careers, two men who would sacrifice their whole physical and mental well-beings, even if it meant one more year of fighting through the roster to claim the throne of victory and praise.
For the Undertaker, it meant another year protecting The Streak.
No wrestling accolade was more beloved than the Undertaker's undefeated streak at Wrestlemania. Though the outcome grew predictable as years passed, one thing was guaranteed every year: an amazing match filled to the brim with storytelling, easter eggs, and unparalleled athleticism. The Undertaker's efforts in exploring new ways to top his previous bouts deserve to be applauded.
His character expresses an uncanny, yet bittersweet sentience. A sentience that blossomed in his Wrestlemania matches with Brock Lesnar and Roman Reigns, respectively. At least for the Undertaker in 2010, every year was just another Sunday, every year was another win he ticked off in his personal record. He was conscious of the challenges that came with defending his streak, but his self-conscious was aware that he would rise from the dust by the end of the night.
Nevertheless, it was his accomplishment. No one in the wrestling world had such an accolade on their resume, and the Undertaker swore by its grave to protect it from intruders. For him to lose it meant to lose the passion and gift of wrestling he had reveled in for decades, and he certainly didn't want to lose that to HBK, of all people.
When it came to the stakes for the Streak vs Career match, it was Shawn Michaels who brought all of his emotional baggage to the table, elevating his efforts into levels of complexity that had not been seen in WWE in a long time; it's the reason why Streak vs Career is so beloved, both as a match and as a heartbreaking (haha) story.
Shawn Michaels had everything to be proud of: a multiple-time champion, bestowed with the gift of putting deserving, young talent over. His triumphant return to in-ring competition in 2002 incited hope in thousands of wrestling fans who were willing to grant him a second chance, and fortunately, his second run with the WWE eclipsed anything he had accomplished in the 90s, creating a handful of critically acclaimed matches. Even before his conquests against the Undertaker, he was already considered one of the best wrestlers of his generation; a guaranteed shoe-in for the WWE Hall of Fame, should he decide to retire one day.
But all of this didn't matter. It wasn't enough for Shawn. He craved more. He hungered for the Undertaker's prized streak. Driving himself to obsessive self-destruction.
Shawn Michaels was always one of the masters of long-term storytelling, and this was evident in the buildup to Wrestlemania 26. Embarrassed by his loss to the Undertaker at WM 25, he vanished from the WWE.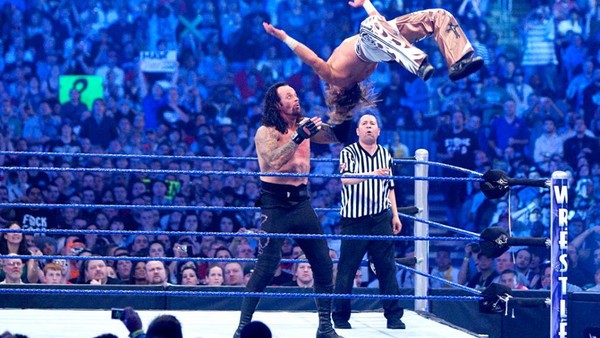 And who could blame him? As a moniker, "Mr. Wrestlemania" carries substantial weight, a crucial responsibility to not only display classic matches consistently, but also *win* at the biggest wrestling show of the year. So when Shawn Michaels made his mistake, he planted the seeds for his emotional shutdown, not allowing himself forgiveness for miscalculating his moonsault, only fixating on the moment The Undertaker tombstoned him to Hell.
The desperation on Shawn's face is evident when HHH finds him working at a job far removed from his wrestling accolades. Believing himself to not be enough for anyone, let alone himself, it takes significant convincing from Hunter for Shawn to quit his job and reform D-Generation X. The symbolism of their 2009 run points to a redemption arc of sorts for HBK, an attempt to recapture the magic that jump started his career into the spotlight. Amidst the silly guest host spots and main event matches, it was a time for Shawn Michaels to soak in the moment, and to truly remember his contributions to the industry.
If only this was a permanent return of a healthy Showstopper, for the storm would creep on his psyche anew. At the 2009 Slammy Awards, he accepted the award for Match of the Year.
He looks away from the stage
award in hand.
and an expression formed.
An expression of regret.
It all returned.. All flooding back like a crashing wave. Consuming the Heartbreak Kid's mind.
Relapse.
"You know what something….Undertaker?! I can beat you."
"You and me. Wrestlemania. One. More. Time"
The flick of an internal switch was all it took for Shawn Michaels to feed his self-pity, but this time, at the cost of his own mental health and interpersonal relationships. A darker edge surrounded his persona, intensifying by the week. The Undertaker denied his request for a rematch, being eliminated from the Royal Rumble (a competition he won twice in the 1990s, I may add), and costing his own faction the tag team championships.
Despite his emotional anguish, the Undertaker gave no slice of empathy towards Shawn's internal dilemma. He carried on with his usual duties as the reigning World Heavyweight champion while Shawn continued to dig himself into a deeper hole. Again, every year was routine for Taker: someone stepped up to the plate as the next challenger to defeat the coveted streak, and he defeated them in a match that would be acclaimed by fans and critics alike. If Shawn couldn't break it the first time, he had no chance the second time around.
What was the point of baiting Shawn Michaels with another try? Why waste time dealing with someone who will inevitably fail again? It was better to ignore him until he calmed down, and moved on with his career like the Undertaker had already done.
That was, until the Elimination Chamber, when the Undertaker lost his title due to Shawn Michaels's interference, a literal last minute resort for the Heartbreak Kid. He felt no remorse in costing Undertaker the belt, even if it meant that one of his longtime rivals, Chris Jericho, took the reigns as world champion; what mattered to Shawn, in that moment, as he stared sternly at his opponent's corpse, was that he feel every drop of despair that HBK was haunted by for weeks, now projected onto the Undertaker—a twisted, sadistic karma working its course.
All of these events and more were beautifully summarized in a promo aired on Raw during the road to Wrestlemania 26. I highly encourage you to watch this video package before proceeding with the rest of this feature. I promise you. It's breathtaking.
The video editing choices emphasize Shawn Michaels' desperation, with the grainy footage cued on screen every time he experiences a mental episode. The dreary color palettes accompany these psyche breaks to paint a tragic portrait of a fallen star. The echoing words from Hunter, Shawn's closest friend, trying to save him from his downward spiral.
Nothing could wake Shawn Michaels up from his living Hell.
Eventually, the Undertaker relented and accepted his request, but only under the condition that Shawn permanently retire if he lost.
Shawn Michaels' attitude changed once the challenge was a done deal . He returned to his normal self: Confident, arrogant, and self-absorbed. A reinvigorated HBK, full of energy, ready to slay tombstones to claim vengeance to his title of Mr. Wrestlemania.
The most shocking factor of Streak vs Career was the credibility of HBK's chances. He made me believe that he would win. Legitimately, I strongly believed that he could actually break the streak.
17-1 did not exist outside of the realm of possibility for me. I recall writing 17-1 all over my notebooks in school like it was a magical phrase. I remember crafting homemade signs for Wrestlemania 26 proclaiming HBK's victory, splattering 17-1 all over it like I was 100% sure he would secure his win. My cousins and I were so thrilled to watch him beat the Undertaker's streak.
I mean, his career can't be over already, right?
HHH promised "the biggest party only DX could throw" for the Raw after Mania to celebrate his conquest. Many fans held onto HBK's versatility. The amount of 17-1 signs that I saw in the crowds every week increased. A universal movement rallying behind Shawn Michaels formed. His headstrong attitude was contagious, embodying the best of Wrestlemania season. He was hyped for his match, and we caught the bug. We fathomed to see his career end so soon, and we desired to hold onto our childhood hero for one more moment.
But the beautiful aspect about long-term storytelling is found in the tiny details. And there is one big clue that foreshadowed HBK's defeat. When he was given the chance to win the tag team titles back from The Miz and Big Show, in a March 2010 episode of Raw, he once again came short due to his inner demons. This moment mirrored his future Wrestlemania match. How would Shawn Michaels be certain that he could win against the Undertaker? Would this second chance truly assist his odds, carefully calculating what he did wrong to revert his state of mind? HBK needed to consider and plan for the consequences of losing his career.
Yet, in the weeks leading up to Wrestlemania, he masks this fear with cockiness, assuring himself that he could get the job done, carrying this frame of mind into the match itself.
Now, I realize that this was tons of buildup thrown at you at once, but imagine going into Wrestlemania 26 weekend with ALL of this lore and history in mind. This was the selling point of Streak vs Career. There was so much more at stake, with devastating consequences for each wrestler if they lost. Both men had everything to lose.
Though the match was a few minutes shorter than the previous year's, the tension in the air permeated throughout the 23 minutes and 59 seconds of action. The wrestling was just as fantastic as Shawn and Undertaker's first bout, and because of the emotional weight this match carried, every move felt crucial. Strategies calculated and staminas tested, time froze around me as I glued my eyes to the plasma TV set, watching these two wage war in one of the strongest suspensions of disbelief that I had experienced so far as a wrestling fan.
The action immediately started as the bell rings. You could sense the rage in both opponents. Months of pent-up frustration exploded, with each counter complimenting their respective offenses. HBK's strategy to target the Undertaker's knee emphasized his mindset: he will do anything to win over the Undertaker, but his opponent was dangerous too. The spots that both of these men took throughout this match were incredibly rough, and the best part was that no one person had an advantage over the other.
My heart skipped beats as nearfalls, superkicks, and tombstones flew across my screen at rapid pace. Shawn stayed persistent, receiving the Undertaker's blows with grit. In a classic case of long-term storytelling circling back, his moonsault spot did not cost him the match. Instead, it was used as a mechanism to decimate the Undertaker, smashing him into the announcer's table outside the ring. It felt impossible to catch a breath watching Streak vs Career, knowing Shawn or the Undertaker could lose the dearest parts of their careers at any moment.
The last moments of this match are stitched into my mind forever. Shawn Michaels, crawling up from the ring, gripping onto the Undertaker's skin, attempting to escape from his Hell one last time. HBK's confidence may have been a boon in the weeks leading up to Mania, but it would also signal his downfall.
And somehow in his psyche, as he slapped the Undertaker, he recognized that too. A moment of clarity, a moment of peace within himself, as he accepted the end of his career.
1.
2.
3.
When that bell rang, I quietly uttered "no." I was in shock. Repeating "No, no, no" as I looked at the anguished faces of my cousins, then I peeked at the digital clock in the living room.
10:55 pm EST.
A near 25 minute classic of a match. I couldn't believe they had done it again. The PPV ended, flashing back to the main menu of our cable provider, and I quietly walked up the stairs to my bedroom. Staring at all the decorations I lovingly created for the weekend amplified the painful sobs I released as I fell asleep.
Not even thinking about that math test in the morning.
In the days following Streak vs Career, there was a strange anger that I felt. I wrestled (haha) with the fact that Shawn Michaels' career was over, that no one could possibly replace him in my heart. I loved John Cena, Edge was always a delight, and HHH was pretty cool, I guess. But they were nothing compared to Shawn. If bridging into my adolescent years meant saying goodbye to one of the most important people of my childhood, then it was an obstacle I wasn't ready to face yet.
Keep in mind that I was still a young wrestling fan; the fundamental mechanics of long-term storytelling hadn't entirely clicked in my mind yet. However, this whole entire storyline, and the months spent building up to Wrestlemania 26, was the first time I experienced how poignant wrestling, as a medium for telling stories, can be. It also demonstrated the complexities of developing plot lines on a long-term basis. Streak vs Career laid the foundation for the stories I would later appreciate when I got older, serving as a precursor for my enjoyment of 2010s NJPW, The Elite, and Kenny Omega.
Wrestling isn't about the victors who win titles. Sometimes, it's about the losers, the people who fall short of their goal, who risk their entire careers for our entertainment. Wrestling can tell compelling stories of defeat, as HBK, despite losing to the Undertaker twice, stayed true to his word and retired from in-ring competition on a high note, with another acclaimed match to add to his repertoire.
He also never wrestled anymore after this. Nope, zilch, nada. Nope!
In all seriousness: WWE produced this match during the height of the PG Era, a period lambasted by fans for its lack of substance, watered-down characterization, and questionable storyline decisions. To realize that the Streak vs Career match, the pinnacle of Wrestlemania main events and long-term storytelling, occurred at this time is impressive. There are Ruthless Aggression levels of consistency here, and for a 2010 WWE storyline, I'm shocked. It shows that Vince still possesses the tools to create impactful characters. At a time when the company was limited by the TV-PG rating, they utilized the best of their talents. It's a strategy that I wish they would carry into today's backstage decisions. WWE's product is still as polarizing as it was 10 years ago, regarding quality, but if Streak Vs. Career proved anything, it's that the magic of WWE can be revived. In fact, that's been proven with stories like Kofimania, The Yes Movement, The Shield, and countless other examples.
One last aspect I'll discuss is the music of this feud. Placebo's "Running Up that Hill" was widely recognized by wrestling fans as the song choice for HBK and Undertaker's wrestlemania match promo. But many fans seldom remember the *other* song that was used to advertise the Streak vs Career match: Audioslave's "Be Yourself". It's a bittersweet song about finding your true self in spite of life's obstacles. Both of these songs speak to HBK in contrasting voices. While "Running Up That Hill" speaks to a tormented Shawn Michaels, "Be Yourself" awakens the soul of the true HBK, the person trapped underneath the agonizing, emotional episodes. And in the moments leading up to Shawn Michaels' retirement, that song epitomizes the legacy that he will forever leave behind. He retired, taking his loss defiantly as ever.
The character of Shawn Michaels awakened his soul, at 10:55 pm EST, on March 28th, 2010, as he orchestrated his swan song, walking up Wrestlemania 26's foggy ramp with his head held high, breaking our hearts one last time.
"Someone gets excited in a chapel yard
Catches a bouquet
Another lays a dozen
White Roses on a Grave"
—-Audioslave, "Be Yourself"
The White Rose: signifying hope, innocence, and light. Shawn Michaels embodied these traits when he returned to the ring in 2002. Somehow, despite his ride through Undertaker's Hell, he never lost the spark that reinvigorated his career. If I had to wipe my mind and experience a wrestling storyline all over again with fresh eyes, it's 100%, without a doubt, this one.