Since its inception, pro-wrestling has used narrative conventions to draw and keep audiences on the edge of their seats.
One notable, re-emerging tale is that of Kenny Omega and Kota Ibushi – the Golden☆Lovers.
In a world of hard hits and sometimes empty extravagant spots, there can be little room for emotional subtlety in pro-wrestling.
However, different in his approach, Kenny Omega's career has had various long-running emotional threads with those around him.
Significantly, Kota Ibushi's involvement from 2008 onwards, or lack thereof at times, is particularly close to the hearts of many for its perceived queerness – confirmed by Kenny, Ibushi, and their friends alike.
Once beyond intimately close, they were torn apart by the rising stardom of Kota Ibushi and furthered by jealousy and hate. Kenny then repaired his relationship with Ibushi in early 2018, but they were pulled apart once again by his All Elite Wreslting ventures going forward.
On the 23rd March 2021, Don Callis stood in the ring on Impact! and reeled off all the greats who he considered no longer belonged in the realms of Kenny Omega's talent.
As the list built up, so did the itching energy of the AEW and AAA champion Kenny Omega, who screamed:
"BIGGER THAN IBUSHI!"
Alongside this, the following Dynamite (24th March 2021), coincided with the 3rd anniversary of the Young Bucks vs. the Golden☆Lovers.
Mirroring that moment, we saw Kenny challenge the loyalty of the Young Bucks only be left an emotional, worn out pile on the floor – carried away by Don Callis and the Good Brothers, whose motives remain in murky waters.
The result? Audiences and social media quaking everywhere.
Now, this might seem a little of an overreaction – What's in a name after all?
And hell, why does this even matter? Hasn't Kenny been naming Ibushi in interviews, in and out of kayfabe? Didn't they have a whole indirect, and then very direct, wistful Twitter spat?
Yes, they very much did.
However, the significance of this name drop on Impact! spans back to the inception of AEW, where Kenny has been signalling to audiences of their relationship and it's past, biding time by building referential narratives.
But the exciting part? It's not a fleeting tweet in the night or passing casual comments. It's a story broadcast on television, seen by all those tuning in, and a representation of the product itself.
So to recap, let's go on a journey of the references so far, their impact, and know now what it means to finally have the Belt Collector acknowledge the Golden Star.
---
AEW 'DYNAMITE' – EPISODE 5 – 30th October 2019
---
The journey starts with a simple video.
Kenny is known to have a direct and personal connection with video games, with references found in the naming of his moves, gear, and character.
One of his favourite games is Undertale, made by Toby Fox, who with Kenny made Kenny's Quest: a bespoke entrance video for Kenny's last defence of the IWGP Heavyweight title.
So when Halloween rolled around for the 5th ever episode of Dynamite, in true Kenny Omega fashion, we saw him dressed as Undertale's main character Sans. His enterance was preempted by the following video:
The shadowed figure? Winner of the 2019 G1 Climax 29, Kota Ibushi.
For the first time, we saw him in image form. A figure with no name, and in this case, no face. But those boy band-esque flippy locks of hair were unmistakable as anyone but the Golden Star's.
However, what stood out about this was how it was a pure act of fan service – not only for those who were on the lookout for Ibushi's first broadcast AEW refrence, but for Kenny Omega too.
Furthered by the position as EVP, audiences knew who produced this video – Kenny, of course.
This was his message and his story he wanted to tell – unlike Kenny's Quest, which was originally rejected by the New Japan Pro Wrestling team for the show, this was made to be shown on TV.
He wanted the audience to see the cheekily similar lion marker logo taunting him with the iconic mononym, CLEANER, followed by this:
As Ibushi's image faded, images of Kenny's friends in pixel form melted into hateful monsters. As if the character of the Cleaner coupled with his memories of NJPW made them look that way.
Leading up to this episode, Kenny had been on a losing streak, taking pins from old and new foes alike; widely commented on by crtitics and fans, they were expecting to see the 'Best Bout Machine' continue from the very birth of AEW.
Now, upon reflection, those losses and above video added to the growing picture of where Kenny's head was at – a clear signpost of the now unhinged current AEW world champion, and how his perception of himself and others was warped from the inside out.
---
AEW 'Full Gear' – Lights out Match:
John Moxley vs Kenny Omega – 9th November 2019
---
Let it be known, this match was quite the game-changer. Some felt it was too violent, some felt it didn't go far enough, some just really wanted to see these two fight it out in the ring.
Kenny's motivation, beat Mox at his own game. Mox's motivation, show Kenny that it's not just his game, it's his life.
After a series of different acts of brutal torture; mousetraps, barbed wire, chains, and tables, we saw Kenny coming to the very limits of his ability to keep going. With nothing left, Kenny rippped the ring mat back to expose hardboard slats. Revealed were thick yellow lines of pine that you would normally see neatly stacked in rows at your local DIY superstore. You get splinters just thinking about it.
What was the most powerful, brutal, and match-ending move Kenny could think of to try to put Mox to bed?
Kenny reached into the very depths of his soul and pulled out the Phoenix Splash, the ultimate finishing move of one Kota Ibushi.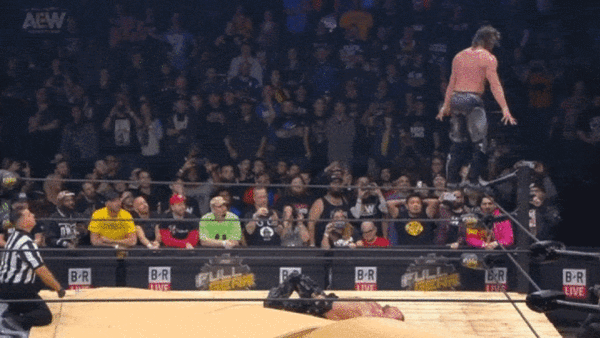 However, in the build-up he gave Mox enough time to roll away and Kenny's face crashed into the wooden slats. Smushing an already broken nose into a bloody pulp.
Moxley then delivered an elevated Paradigm Shift and the fight was over.
Why it matters? It was the first time the audience was presented with a direct reference to Ibushi in the ring, addtionally hinted on commentary as "Taking a page out of the Golden Star's playbook!", the stakes of the feud gave it a platform to show a new audience a glimpse of the psyche of Kenny Omega.
Perhaps he could never pull off that move without Ibushi by his side? Perhaps it was the last glimmer of light he had within him to try and avoid another loss before his heart was truly blackened and broken again?
Perhaps he simply wanted Ibushi to see. Either way, the audience certainly saw it.
---
AEW 'REVOLUTION' – AEW Tag team title match:
Kenny Omega & 'Hangman' Adam Page vs. The Young Bucks – 29th Feburary 2020
---
Kenny and 'Hangman' Adam Page had quite the special tag team run.
Despite how their prowess was rarely matched as singles stars, they were bonded by their broken spirits as Adam also had a string of unpredictable losses.
Before they knew it, Kenny and Adam had found themselves unintentionally capturing the AEW tag team titles.
But their journey came with personal struggles.
Kenny was fighting to feel the, unrecipracted, magic of a tag team connection again. Adam had his booze-fueled insecurities revealed as worthlessness coupled with a torturous need to be an asset in his own right.
But facing the Young Bucks as the challengers for the AEW tag team gold tested every hidden corner of their tumultuous frendship, including a call back to Kenny's most infamous tag team partner.
In a twist, with a flicker of hesitation, the Bucks attempted to end the match by administering the Golden☆Trigger to Kenny.
The move's name was shouted across the stadium by the brothers, bruising his heart harder than any physical blow to Kenny's shoulders could have done.
The move was invented by the Golden☆Lovers in 2018, who had both been using knee strikes as their finisher. The logic being if their individual knees could take out a competitor, then the knees of them both together were unbeatable.
But the real insult to injury came from how the Bucks were on the cusp of debueting their own spin on the move, the BTE Trigger, which most likely evolved from how Kenny then reacted.
Unexpectedly, Kenny kicked out after just one count. Audience's shouts and gasps were echoed around the stadium and in the homes of viewers alike.
Screaming a litany of no's, Kenny joined the noise and punched the ring mat with so much force it can be linked to the breaking of his hand that night.
Its significance regarding Ibushi told the audience that despite it being one of the most devastating finishers, instead of emotionally destroying the any remaining sheer ability to kick out, it lit a fire inside of him.
A flood of memories and anger, inspired by something or someone, made Kenny surpasses the limits of physical damage. The memories of Ibushi were not gone, and still very raw.
Those who had never seen the move before or maybe never seen any of Kenny's work in Japan were introduced to an emotional reserve that signalled exactly how much the action, and Ibsuhi himself, meant to Kenny.
---
AEW 'New Years Smash' – AEW Heavyweight Title Match:
Kenny's Omega vs Rey Fenix – 6th January 2021
---
As could be predicted Adam and Kenny lost the tag team belts as they were tested by the self-destructive Adam, who pushed Kenny to his limits. Therefore, when the time came around, Kenny crushed the last glimmer of good intention in a match between them to earn a title shot.
Using this regained ruthlessness, nearly a year since his tag team win, he distracted Moxely and got the pin in a match for the AEW Heavyweight title.
Kenny had transformed into the Cleaner on steriods – a relentlessly annoying and egotistical heel, backed by the slimey Don Callis as his manager.
In Kenny's first title defence, we finally heard Ibushi's name.
Queue the sea of people everywhere who yelled, FINALLY!
Why? Because Kenny was not the only Golden Lover sporting the top title of their promotion.
As the match went on, over commentary audiences heard:
'His best friend Kota Ibushi achieving greatness last night in the Tokyo Dome – the pressure on Omega to follow suit!"
Jericho replied:
"Absolutely, but his former best friend, his new best friend is Don Callis I'd have to say."
JR bolstered this comment with:
"Well if Kenny Omega has anything to say about it, that is the way it's going to stay."
Most likely, completely by accident, but the pure full circle use of language there evoked a sense of destiny.
The importance of this last mention was the duality between Ibushi and Kenny at this time, who both had eerily similar breakups where each left their then tag partners in pursuit, and capturing singles gold.
At this time, the concept of the forbidden door was not even a legitimate topic of conversation discussed by the company, wrestlers, or fans – simply dream booking.
So why mention a different wrestling promotion on a weekly television broadcast?
It was now impossible to ignore, no longer a visual hint or referential in-ring manoeuvre, it was undoubtedly an important factor in Kenny's story going forward and a signal that their connection, whether they want to acknowledge it or not, remained an inescapable fate.
---
What does it mean? – The Future
---
The business sides of AEW, and now Impact!, those who have to rear their head and say yes or no to concepts and ideas (i.e will this jeopardise x with x and lose us money?) are not turning their heads anymore.
AEW is taking a risk every time we inch closer to acknowledging Kenny and Ibushi.
The Golden☆Lovers have a well-documented history, (only a simple Google away), of not only their intense friendship but their romantic connection as well.
LGBTQIA+ television, films, media creators, and viewers, have fought and paved the way to be able to carve out spaces for their stories which speak to queer audiences, front and centre.
So, when looking at the current state of programming on our screens it is expected to see diversity. It is expected to not ignore those of difference because it is simply easier. AEW seemingly stands within those ranks.
Nyla Rose, a trans woman, wore the AEW Women's title with fearsome pride. Sonny Kiss performs with a heart-fueled-flare undefined by a gender binary. Antony Bowens lives his authentic life, proudly shared across his social channels and unapologetic about the racial remarks made about his and tag partner Max Caster's rapping gimmick.
However, it is only the very beginnings of a world where televised wrestling promotions are starting to feature 'otherness' beyond mockery – so where might this go?
Concerning the Golden☆Lovers, it very much depends on who Kenny and Ibushi will be in the recovering Covid-19 world. Where will their characters develop? Who will be at their side? Will their ambitions have changed?
The past Cleaner simply pretended Ibushi didn't exist, but this iteration of Kenny has reached the point where he's had enough of the paradoxical performances of flamboyant coyness.
It's loud and out there for all to witness.
If AEW takes the step to acknowledge the unavoidable queerness between Kenny and Ibushi, the road could be far less bumpy outside for queer people in other wrestling promotions, and across other forms of entertainment everywhere – reaching through screens and out to audiences in ways they did not expect.
For it won't be the power of Kenny or Ibushi alone who will make the history books, it will be what they do together, with the companies, fans, friends, and foes behind them – in front of the eyes of millions.
But with kayfabe in mind, perhaps Ibushi, the self titled God with a recent IWGP World Heavyweight Champion loss, is the only audience member Kenny is looking to impress?
Perhaps this little stint might give you an inkling to where the story may end up going…
Thank you to @PatriciaSpeirs for supporting us on Patreon, helping make features like this possible!