How I Met Your Puroresu is a series dedicated to providing background information on matches in hopes of broadening horizons. These matches will be no longer than that of a sitcom as to not overwhelm a first time viewer.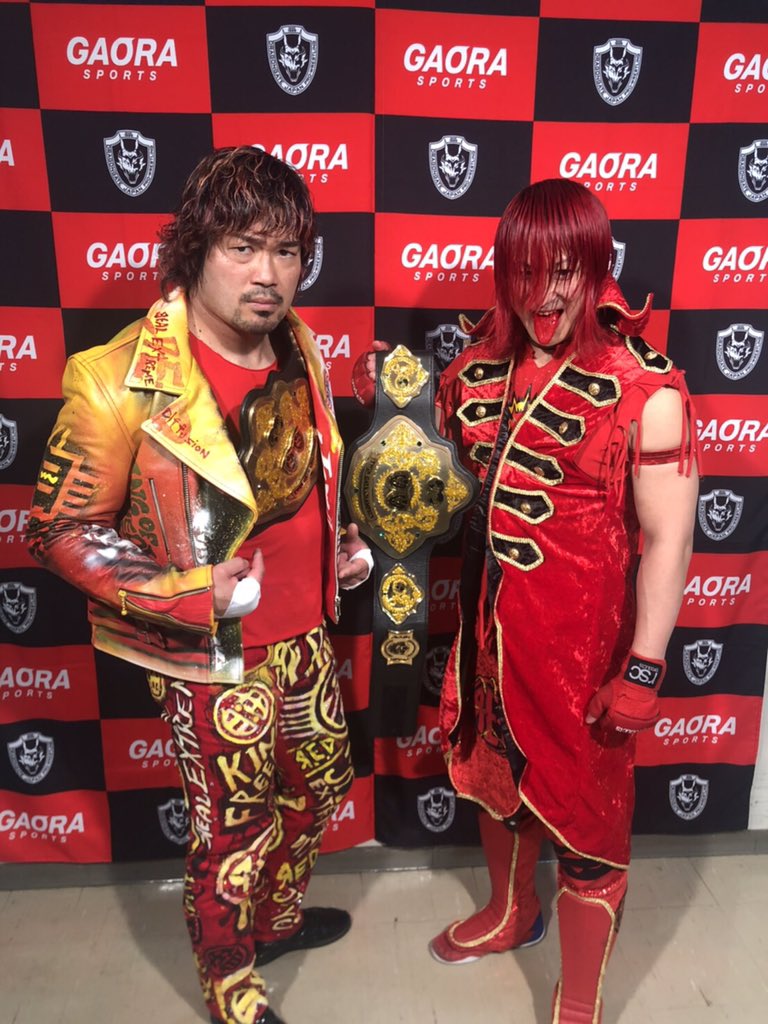 Company: Dragongate Japan Pro-Wrestling
Match: R.E.D. (BxB Hulk & KAI) vs MASQUERADE (Jason Lee & Kota Minoura)
Stakes: Open the Twin Gate Championship
Length: 18 Minutes
Production Date: January 12, 2021
Air Date: January 12, 2021

Originally scheduled to take place at Dragongate's biggest annual event, the Kobe Pro-Wrestling Festival on November 15, 2020, the match was shaken up the day before due to Jason Lee registering a high fever. Instead of canceling the match, the titles held by Lee and Kota Minoura were vacated and Minoura was forced to find a replacement partner who ended up being YAMATO. The two were unsuccessful, but Lee has returned healthy and the duo are back to challenge for the championships they never lost.

Before they were forced to vacate the titles, Lee and Minoura were on a Twin Gate run and on their way to establishing themselves. They beat the R.E.D. team of BxB Hulk and KAZMA SAKAMOTO to capture the titles at the Memorial Gate event and to date, this achievement is the highlight of either guy's career. Jason Lee has held the Open the Triangle Gate Championship once, more than two years ago, while Minoura didn't have any gold to his name. After defeating the R.E.D. team, they went on to have two successful defenses against the old guard of Susumu Yokosuka who challenged with different partners: Dragon Kid and Genki Horiguchi, all of the Toryumon generation.

Right as the team was building momentum leading to the biggest show of the year, Lee came down with a fever that cut their reign short. Stepping in for Lee was YAMATO, a man who not unlike Lee and Minoura, has history with BxB Hulk and KAI, but their story goes back even further. YAMATO has shared Twin Gate reigns alongside both men who each turned on him to join R.E.D. at different points in 2019 (Hulk) and 2020 (KAI).

To say YAMATO is the king of the Twin Gate would be an understatement. He holds the record for most reigns as one-half of the Twin Gate at ten with six different partners, two reigns with Hulk and one with KAI. The timing with which these took place is the point of contention between the trio. Hulk and YAMATO's second go as champions was cut short when Hulk sustained a neck injury at the hands of KAI, putting him on the shelf for close to six months. Not five months after said injury was YAMATO not just teaming with KAI but capturing yet another Twin Gate.

The team of KAI and YAMATO lost the titles shortly after Hulk's return but instead of teaming with KAI to make another challenge, YAMATO decided to go back to Hulk. They were successful right off the bat: adding yet another reign to YAMATO's name, yet before they could make a defense, Hulk turned his back on YAMATO, aligning himself with R.E.D. and vacating the Twin Gate. His reasoning was YAMATO's selfishness in teaming with the guy who broke his neck. Soon thereafter, KAI would follow.

Quarantine has given a lot of us the time to reflect, and KAI is no different. Like Hulk, he too was discarded by YAMATO who wasn't his first choice to tag with to go after the vacated titles. YAMATO gets too obsessed with his own goals that he forgets about others, so on September 21, 2020, KAI decided to turn on YAMATO and side with Hulk and the R.E.D. unit. Using Jason Lee's fever to his advantage, YAMATO slid into the Twin Gate match at the Kobe Pro-Wrestling Festival to team alongside yet another partner, Kota Minoura.

The team wouldn't go on to capture the Twin Gate, Minoura wouldn't be YAMATO's seventh partner on his eleventh reign, but now Minoura has his old partner Jason Lee back. A duo that's had recent success against BxB Hulk, defeating his team with KAZMA SAKAMOTO to claim the biggest achievement of their respective careers for the Twin Gate Championships they never lost. Together they can make a statement that stability in partners is the key to long term success. All they need is a chance.