On the January 8, 2021 episode of Smackdown, fans were treated to something special, as the gauntlet match set up for that episode, booked by Adam Pearce, took place. Much to the chagrin of Universal Champion Roman Reigns, the match was an opportunity for the winner to face him for the title, without The Tribal Chief's blessing.
Who would take this opportunity to visit Roman's "Island of Relevancy"? Would it be the paranoid Sami Zayn or legend Rey Mysterio? Could King Corbin return to feuding with the Head of the Table, or would Daniel Bryan take the "YES!" movement to Roman? Maybe it could it be that Shinsuke Nakamura would be given a chance to shine again?
Before delving into the match, it must be illustrated what makes a gauntlet match such a spectacle to watch. At the start of a gauntlet match, two competitors start, and if one becomes pinned, another takes their place. As it goes on, the victor of each part of the match progresses onto the next. Perhaps a wrestler starts near the beginning and sticks it out to the end, or perhaps a fresh opponent may take advantage of not being worn by battle, securing an easy victory.
The gauntlet match is a story in and of itself, to see who can fight until the bitter end to prove their worth. It is a test of mettle, that while found in other matches such as the Royal Rumble, is rawer, and more intimate here. Fighter after fighter, everyone must claw their way to victory, fighting fatigue.
In recent memory, two of the biggest gauntlet matches had been on February 19, 2018, where Seth Rollins lasted an hour and five minutes, having defeated Roman Reigns and John Cena before finally succumbing to a hungry Elias. The other is one that lit the fuse that was the flame of Kofimania: on the February 13, 2019 episode of Smackdown Live, New Day member Kofi Kingston withstood the likes of Daniel Bryan, Jeff Hardy, and Samoa Joe before being vanquished by AJ Styles. Until the bitter end, Kofi didn't have any quit in him; he went too far to let this chance for championship gold slip through his fingers.
For the January 8, 2021 episode of Smackdown, the gauntlet match for a shot at the Universal title at Royal Rumble felt exactly like those matches. Just like in the Kofi Kingston match, Shinsuke Nakamura was someone you wouldn't expect going in to survive as long, let alone even win, as WWE hadn't been utilizing the King of Strong Style. However, unlike Kofi Kingston, Nakamura didn't have a near decade tenure with the company, nor was he portrayed as a good guy. Following his WrestleMania 35 defeat at the hands of AJ Styles, Shinsuke's character became that of a dastardly villain, and his star appeared to gradually diminish as time went on.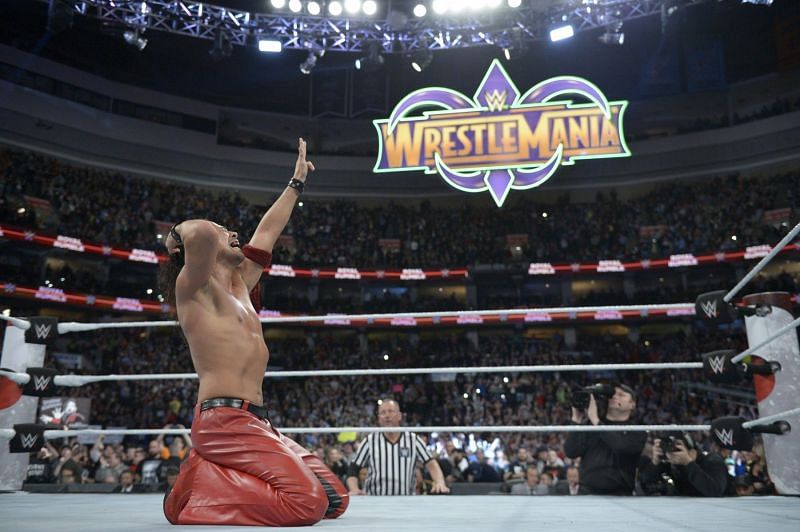 For what seemed like a long phase, he was nearly obscured; only made relevant by partnering up with Sami Zayn and Cesaro, two other superstars that were having trouble being booked in a meaningful way.
We all knew Shinsuke had a lot more to offer. Anyone could point you to one of his high caliber matches from New Japan Pro Wrestling. One with a subscription to the WWE Network could watch his matches from NXT and see how talented he is in the ring. Hell, his Smackdown match with John Cena in 2017 or his participation in the 2018 Royal Rumble are evidence enough of his in-ring prowess.
That is the Shinsuke Nakamura we know and love, not the man who kept striking AJ Style's little Phenomenal Ones every freaking time they would cross paths. Shinsuke is, if given the time and opportunity, someone who can be depended on to perform beyond stellar matches. There's a reason people use the term "a Shinsuke Nakamura match".
The Shinsuke Nakamura from this gauntlet match is the one I want to see more of: the man who stopped Rey Mysterio at every high-flying maneuver and who lasted through King Corbin's bullying ways. When it came time for the King of Strong Style to contend with Daniel Bryan, I found myself saying: "This is it. This is a Shinsuke Nakamura match", while standing out of my seat, heart pounding with excitement. After Shinsuke shook hands with Daniel, it looked as though this was the moment his character was going to turn to being a sympathetic protagonist. Jey Uso and Roman Reigns then entered the ring to strike him down where he stood, before doing the same to his next opponent Adam Pearce, whose lifeless body was dragged across Shinsuke's for a 3-count victory.
Roman Reigns has consistently been a Smackdown highlight every week since his return. His work on the microphone and in the ring has made for compelling television and has already helped elevate Jey Uso and Kevin Owens. Imagine the Tribal Chief battling the King of Strong Style at WrestleMania and try tell me that notion doesn't send a tingle up your spine. Find someone that proclaims they don't want this, and I will tell you that you've found a liar!
I don't know what it'll take for Shinsuke Nakamura to be shaped into the star he once was, but if this gauntlet match isn't what propels him to the main event scene, fans will be denied of a great talent ascending to a prominent position. It is worrisome that WWE is likely to drop the ball on Nakamura again, but if the Japanese legend is impelled to the top, it may be a sign of things to come and of Vince McMahon's company taking the talent seriously, along with telling compelling storylines.
Shinsuke's performance in the gauntlet match proved WWE knows just who he is. His bout with Daniel Bryan in the match shows how much he belongs at the top. Just like Roman Reigns and Daniel Bryan, Shinsuke could be one of those talents that aids in propelling the stardom of anyone he faces, just by having a match with them.
So, here's to hoping WWE doesn't become the King of Wrong Style, and that they let Shinsuke Nakamura put on the performances he has been lauded for throughout his career.