How I Met Your Puroresu is a series dedicated to providing background information on matches in hopes of broadening horizons. These matches will be no longer than that of a sitcom as to not overwhelm a first time viewer.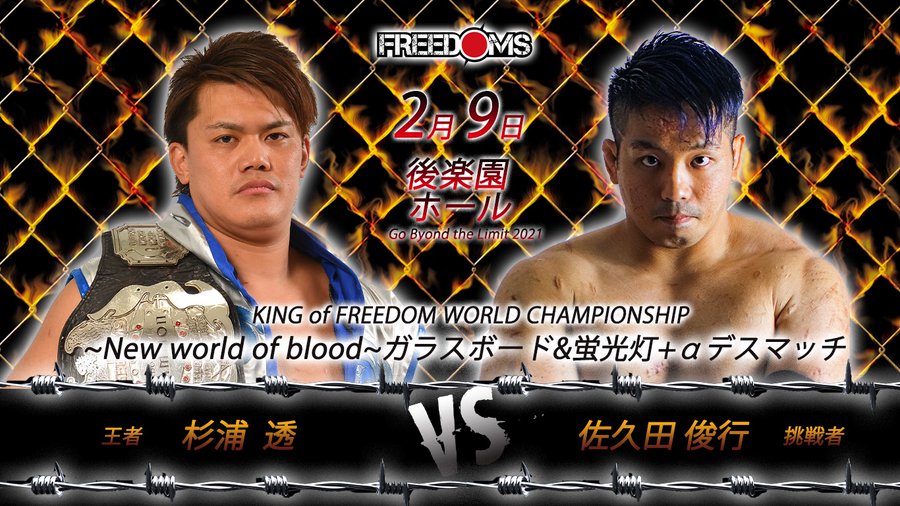 Company: Pro Wrestling FREEDOMS
Match: Toru Sugiura vs Toshiyuki Sakuda
Stakes: King of FREEDOM Championship
Length: 17 Minutes
Production Date: February 9, 2021
Air Date: February 16, 2021

Certain circles within the greater wrestling community discussed who was the greatest champion of 2020 ad nauseam but in the death match scene, there was only one answer. 30 year-old Toru Sugiura ruled 2020, a year in which he defended the King of FREEDOM Championship six times. His reign began in 2019 after he defeated a death match icon in Jun Kasai, ending his fourth run with the championship and kicked off what was to become something of legend.

At the time of this challenge by Toshiyuki Sakuda, Sugiura was less than a week away from surpassing 500 days as champion, dwarfing the reigns of Takashi Sasaki and Masashi Takeda who both managed to defend the title for 365 days. This defense would bring his total to eight, two more than Jun Kasai's former record of six in a singles reign. The King of FREEDOM Championship is a relatively new title, having been founded on May 2, 2013 and although it's been held by legends, Sugiura's name is on its way to surpass them all.

After dethroning Kasai, FREEDOMS didn't waste any time in throwing Sugiura to the wolves. His first defense came at the hands of former two time King of FREEDOM Champion, Violento Jack followed by former two time BJW Death Match Heavyweight and Blast King Champion, Yuko Miyamoto. The pandemic would put the title on ice for a few months but when they returned in June, Sugiura defended against the man who not at this time but is now currently the BJW Death Match Heavyweight Champion, Takumi Tsukamoto.

July is arguably where Sugiura's reign began to really heat up as he faced former two time champion, Masashi Takeda in what ended in a referee's decision due to blood loss from Takeda. Next, in order to prove his reign wasn't a fluke, Sugiura again managed to beat Jun Kasai, followed thereafter by inaugural champion and owner of Pro Wrestling FREEDOMS, Takashi Sasaki. In another move to prove himself, Sugiura took down Takeda once again, this time by pinfall. All of the company's legends have been successfully defeated. Now it's time for a new era.

Not more than two years have passed since Toshiyuki Sakuda considered retirement while in his mid-20s. After giving his body to the death match style for several years in BJW, he wasn't seeing the growth he had hoped to see within their ranks. Although he was full time with BJW, it was FREEDOMS that gave him his first shot at a singles championship where he faced none other than Jun Kasai. From that point in early 2019, Sakuda has taken off. He had a major role in BJW's best death match of 2020 but would turn his focus to FREEDOMS by the end of the year.

Standing at just 5'1, Sakuda has faced an uphill battle his entire career. Death match doesn't have weight divisions so overcoming size disadvantages for title opportunities has been Sakuda's sticking point. Pro Wrestling FREEDOMS have afforded Sakuda the chance to shine and prove he's worthy of being a main event player. Not to be laughed at in a title match or pick up wins in front of no fans, he instead came into FREEDOMS and immediately turned on Jun Kasai, setting course for an entirely new chapter.

Toru Sugiura, the man who has turned into a legend throughout his historic reign. Toshiyuki Sakuda, the man looking to prove his doubters wrong. Two men who are the new faces of death match. Wrestling in a place where the style not just survives, but thrives.