How I Met Your Puroresu is a series dedicated to providing background information on matches in hopes of broadening horizons. These matches will be no longer than that of a sitcom as to not overwhelm a first time viewer.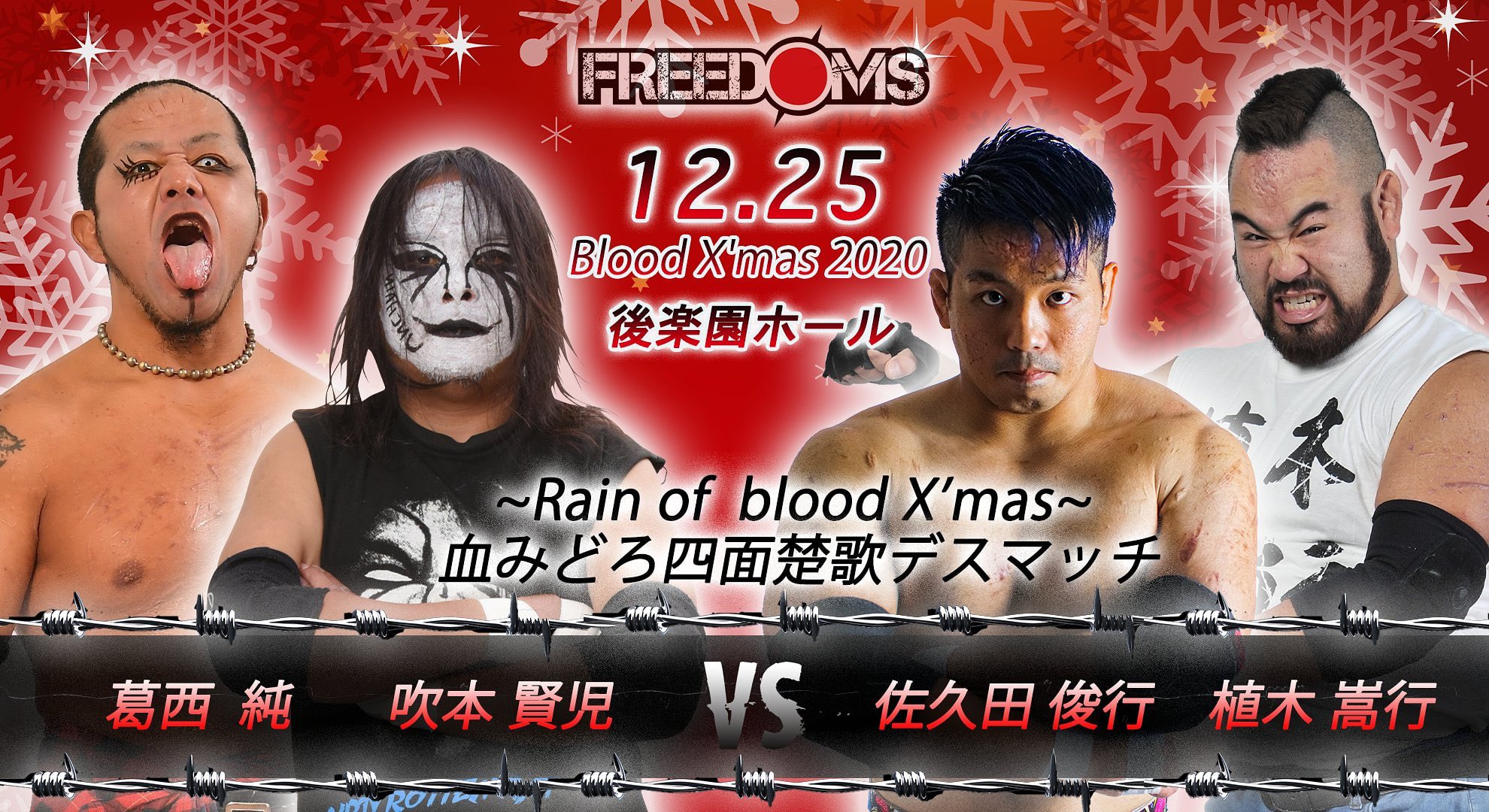 Company: Pro Wrestling FREEDOMS
Show Title: Blood X'Mas 2020
Match: UNCHAIN (Jun Kasai & Kenji Fukimoto) vs 3rd Generation Chimidoro Brothers (Takayuki Ueki & Toshiyuki Sakuda)
Length: 17 Minutes
Production Date: December 25, 2020
Air Date: January 5, 2021
Jun Kasai's Blood X-Mas is an annual Christmas tradition that started in 2010 with a show headlined by Pro Wrestling FREEDOMS owner, Takashi Sasaki, taking on the aforementioned Jun Kasai, in a glass death match. The 2020 edition sees Kasai in the semi main event but it's a match worthy of being on top of the bill.
Despite being trained through the BJW dojo, Toshiyuki Sakuda received his first opportunity for a singles championship from Pro Wrestling FREEDOMS, against none other than Jun Kasai. The match took place on February 10, 2019 and launched Sakuda's career to another level. Soon after, he was seen traveling to New Jersey where he'd wrestle in GCW's Tournament of Survival 4, losing to eventual winner, Alex Colon. Just three months later, Sakuda would go on to make his first challenge for the BJW Death Match Heavyweight Championship, taking on Isami Kodaka. 2019 was the year of Toshiyuki Sakuda, thanks in part to the spotlight he received from Kasai and Sasaki.
It's fair to say 2020 was a mess of a year and BJW's death match division didn't fair much better. The bright spot of the division's year came on June 21st when BJW produced an empty dojo death match which ended with Sakuda pinning death match legend, Abdullah Kobayashi, scoring the biggest win of his career. All signs seemed to be trending up for Sakuda within the ranks of BJW but within the next few months it was revealed he'd be leaving the company and there was little doubt where he'd end up next.
While Sakuda was reaching career highs, Takayuki Ueki was experiencing lows. Just days before Sakuda's monumental challenge for the BJW title, Ueki would suffer an injury which sidelined him for a full year. He had been on his tenth reign as Yokohama Shopping Street Six Man Tag Team Champion alongside Saukda and fellow 3rd Generation Chimidoro Brother, Masaya Takahashi; a team on their eighth reign. These titles are the only credits both Sakuda and Ueki have to their name. Meanwhile, Takahashi has received two reigns as BJW Death Match Heavyweight Champion.
On November 13, 2020, Big Japan Pro-Wrestling produced an event titled 'Chimidoro Last Stand'. This was to signal the end of both Toshiyuki Sakuda and Takayuki Ueki's time with the company; at least on a full time basis. Now while everyone was almost certain where Sakuda would end up, Ueki was another story.
Sakuda made an appearance at a FREEDOMS event three days before the 'Chimidoro Last Stand' in a match where he was scheduled to team with Jun Kasai & Kenji Fukimoto. Familiar with both as opponents (Sakuda and Fukimoto faced off in a singles match at the 2018 Bloody X-Mas) and allies, Sakuda would decide to turn on the duo and put a match at 'Bloody X-Mas 2020' into motion. The only problem was that he needed a partner.
In hindsight, it's obvious that Ueki would team with Sakuda but Ueki didn't have a history of wrestling in FREEDOMS, and between the 'Last Stand' and his reveal as Sakuda's partner on December 10, Ueki's only notable appearances were at AJPW and J-STAGE. An absolutley perfect reveal and an exciting way to set us up for 'Bloody X-Mas'.
Jun Kasai and Takashi Sasaki gave Toshiyuki Sakuda an opportunity in 2019 and he capitalized by launching his profile to new heights. 2021 will be the year we see what Takayuki Ueki can produce with his shot.